Regular price
Sale price
€39,95 EUR
Unit price
per
Sale
Sold out
Our yoga card set is the first to include illustrations for both children and adults. Easy to use and full of fun.

Yoga is a great method to teach your child to take care of themselves and others, to learn to deal with emotions and to learn to be self-confident.
Just like with adults, it can teach your child tools that they can call up themselves when they need them, to learn to relax themselves.
With our yoga cards we have developed a way for parents and children to learn yoga together in a fun and playful way. With this we want to encourage parents and children to insert a yoga moment into their routine to reflect on the day 1-on-1 and find real peace.
When you can practice yoga with your child, you will experience a moment of connection and routine that will benefit both of you.
So are you looking for a beautiful, connecting ritual with your child? Then try our yoga cards to start doing yoga together in a simple way!
Enjoy this card set with your child and develop beautiful, positive habits.
The card set contains 30 beautifully designed cards with exercises to do with your child(ren).
Each card features an illustration of a yoga pose for children, with an illustration for adults on the other side.
Now with 12 extra cards with breathing exercises for children
Contents

- 30 children's yoga cards
- 30 poses for adults on the other side of the card
- 12 cards with breathing exercises
- 1 EBOOK with instructions (via QR)
- A6 format
- Matte laminated
- Bundled in an ecological cotton bag.
For whom?

- For both children and adults.
- Can enjoy and experience together from the age of 2 under supervision.
- For parents, teachers, therapists, children's coach, childminder, ...
How?

The extra ebook with instructions guides you step by step in the pose. Focus on 1 posture or create an infinite number of yoga sequences tailored to your needs.
Need strength and energy? Or rather peace and balance?
Teach your child to be strong and self-confident through yoga.
Moreover, with the basic set "For you and me" enjoy a 1 on 1 moment, together with your child, a moment of connection in peace and confidence.
Dispatch

BE and NED €4.95
Free shipping above €50
Parcels are shipped within 2 days during weekdays.
Orders on Saturday or Sunday will be shipped on Monday.
View full details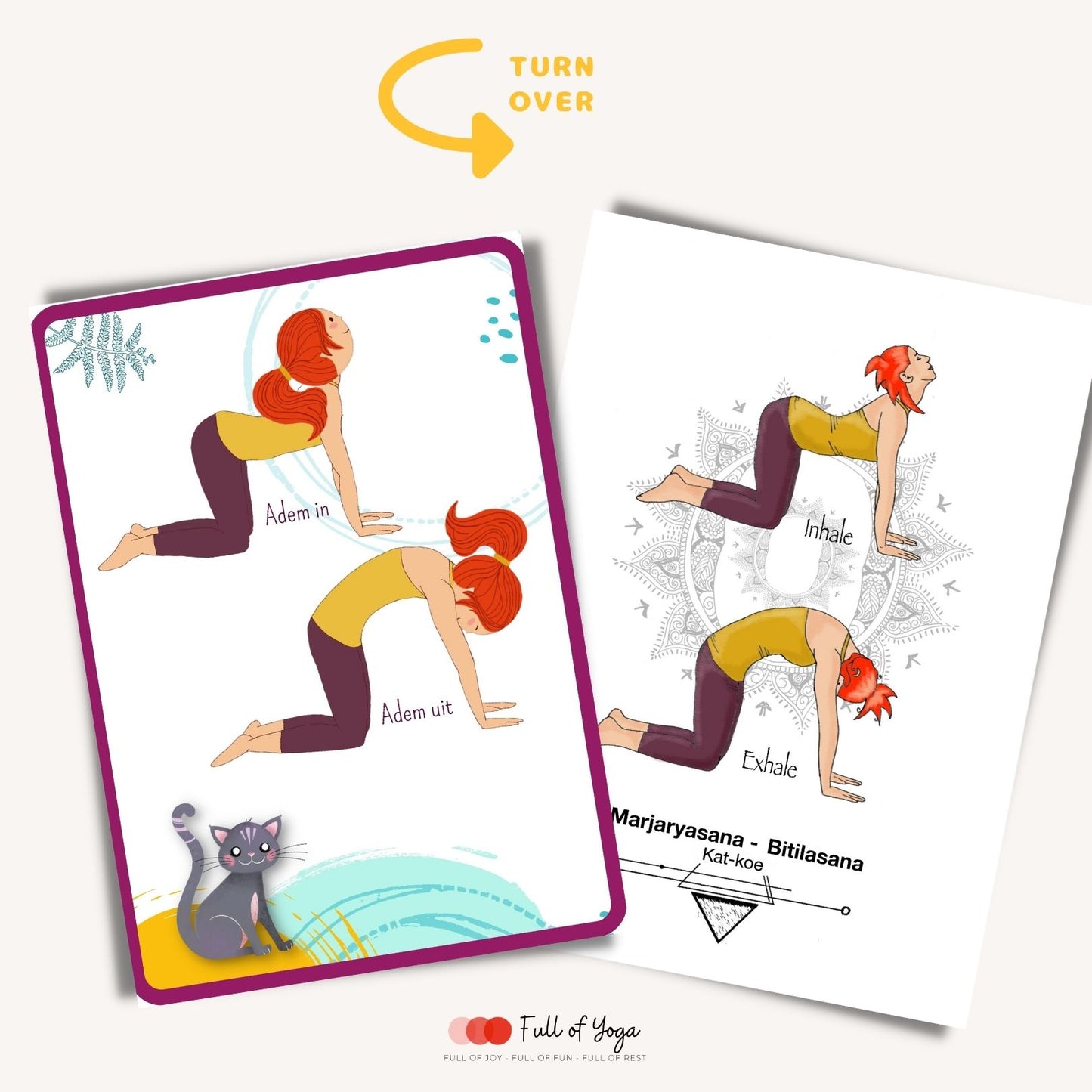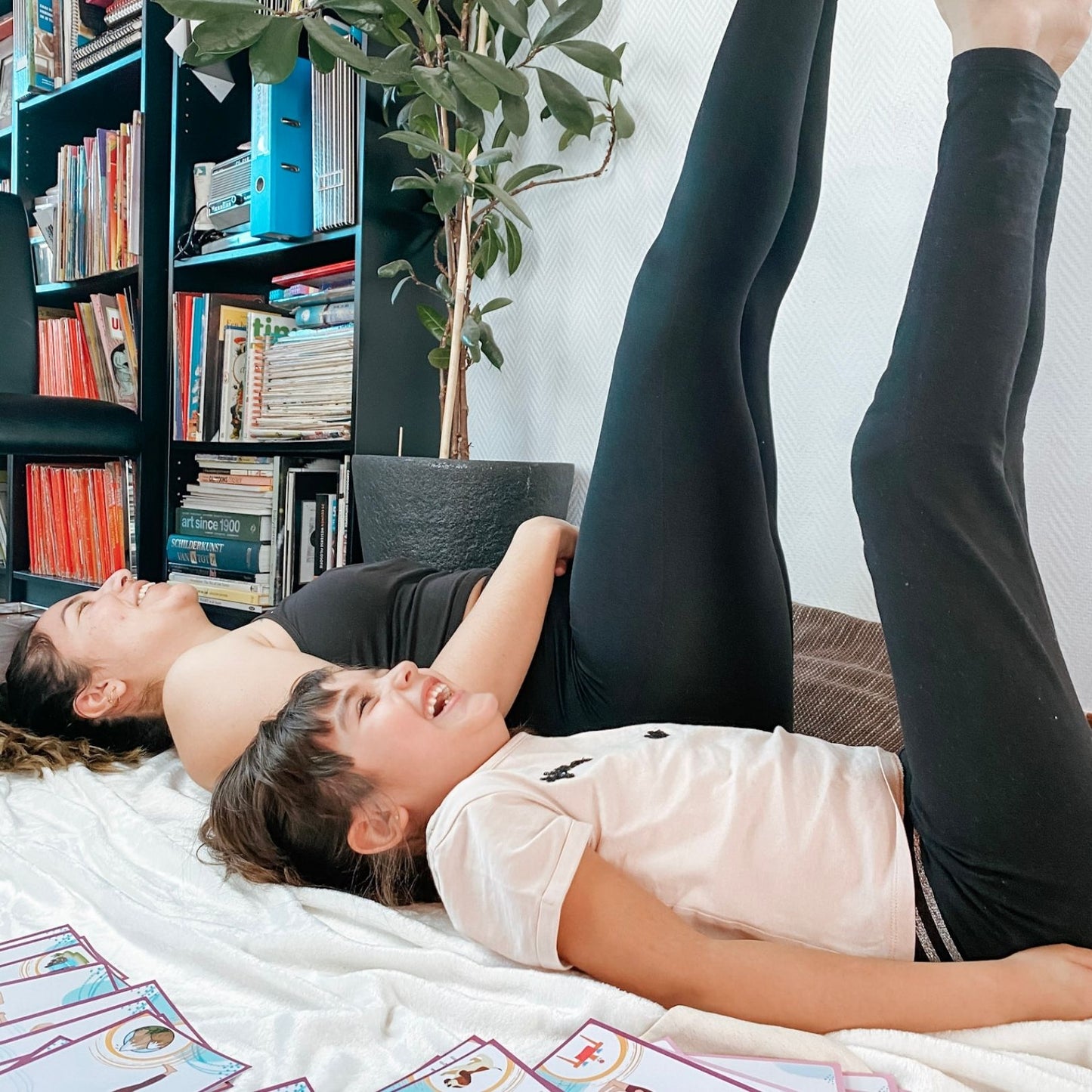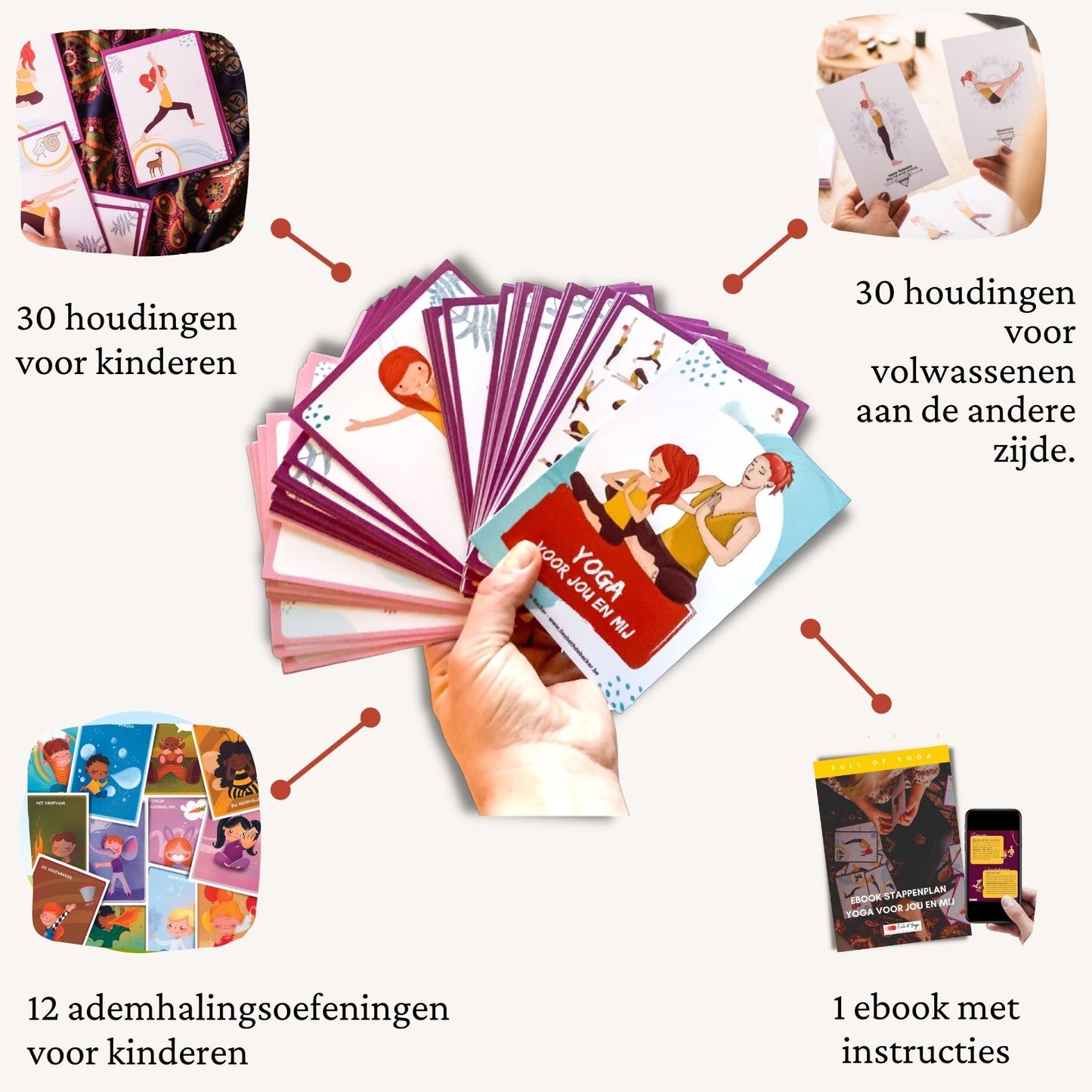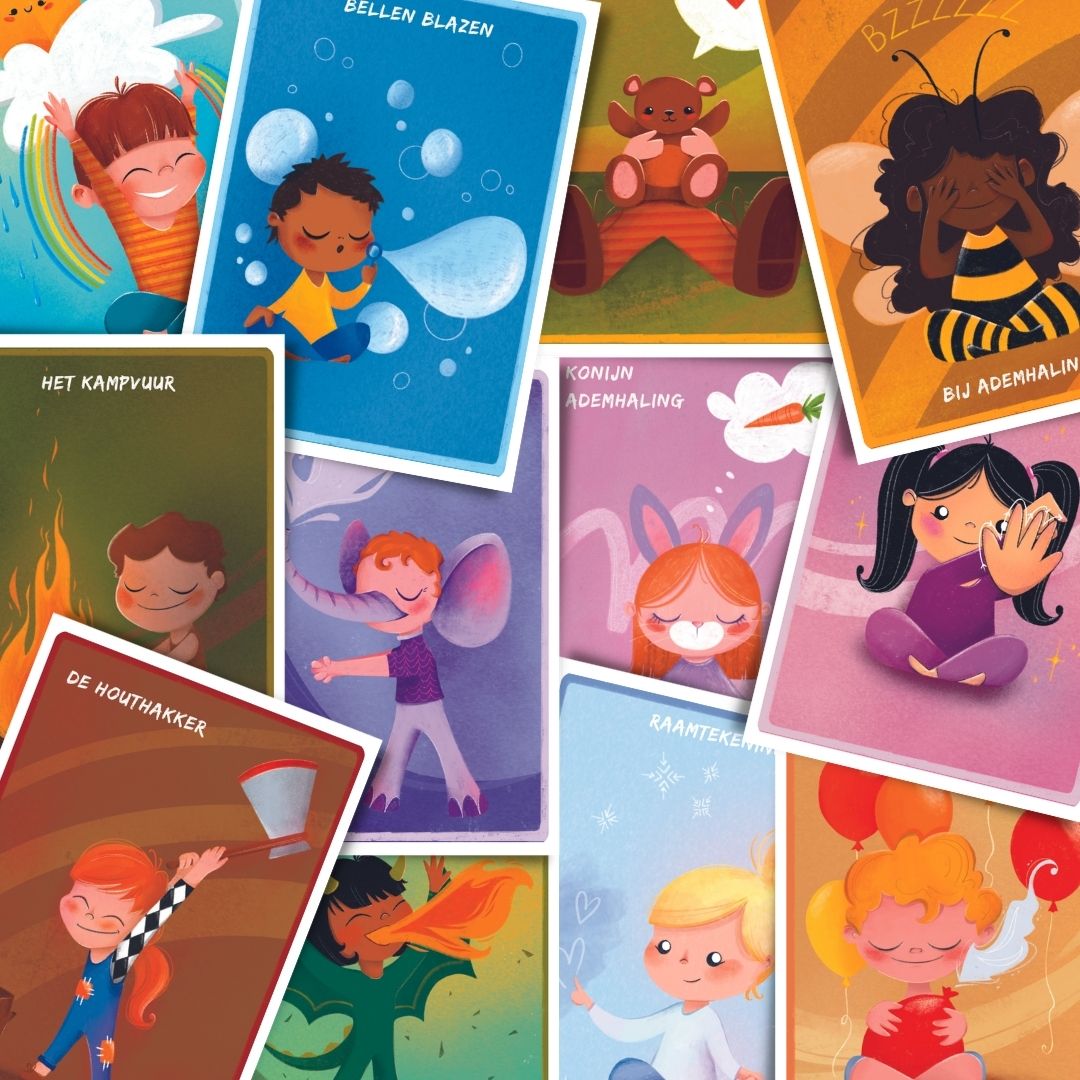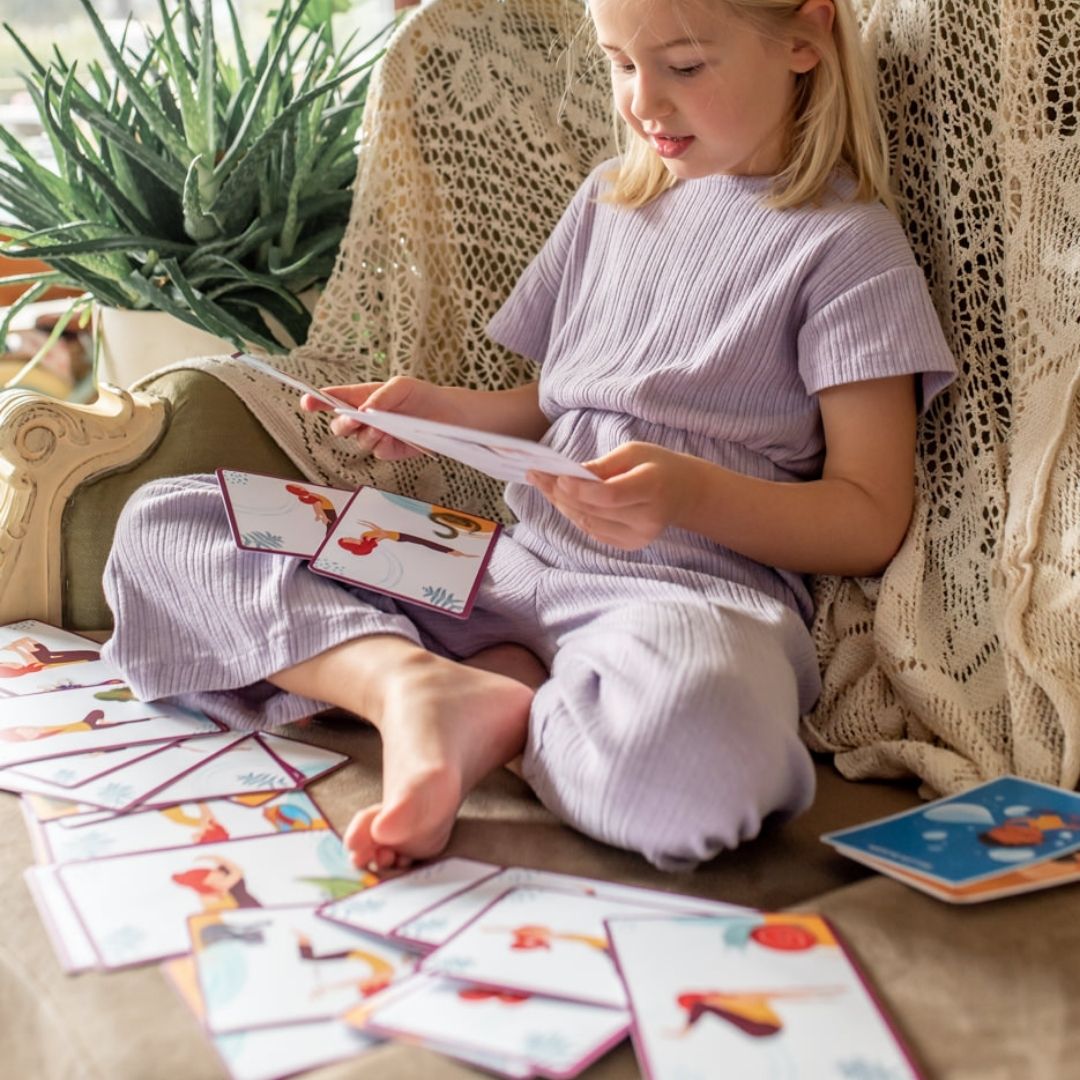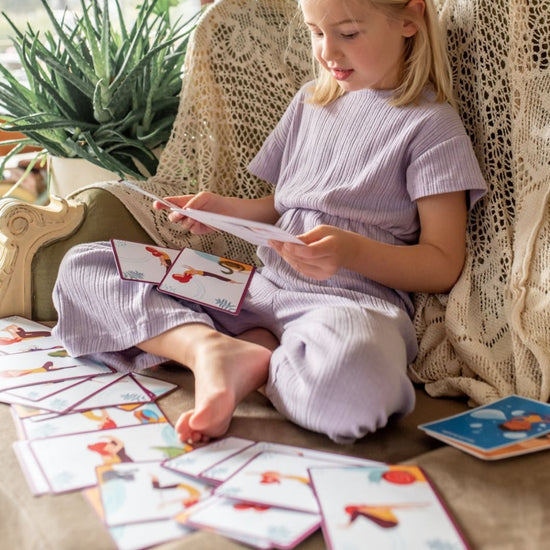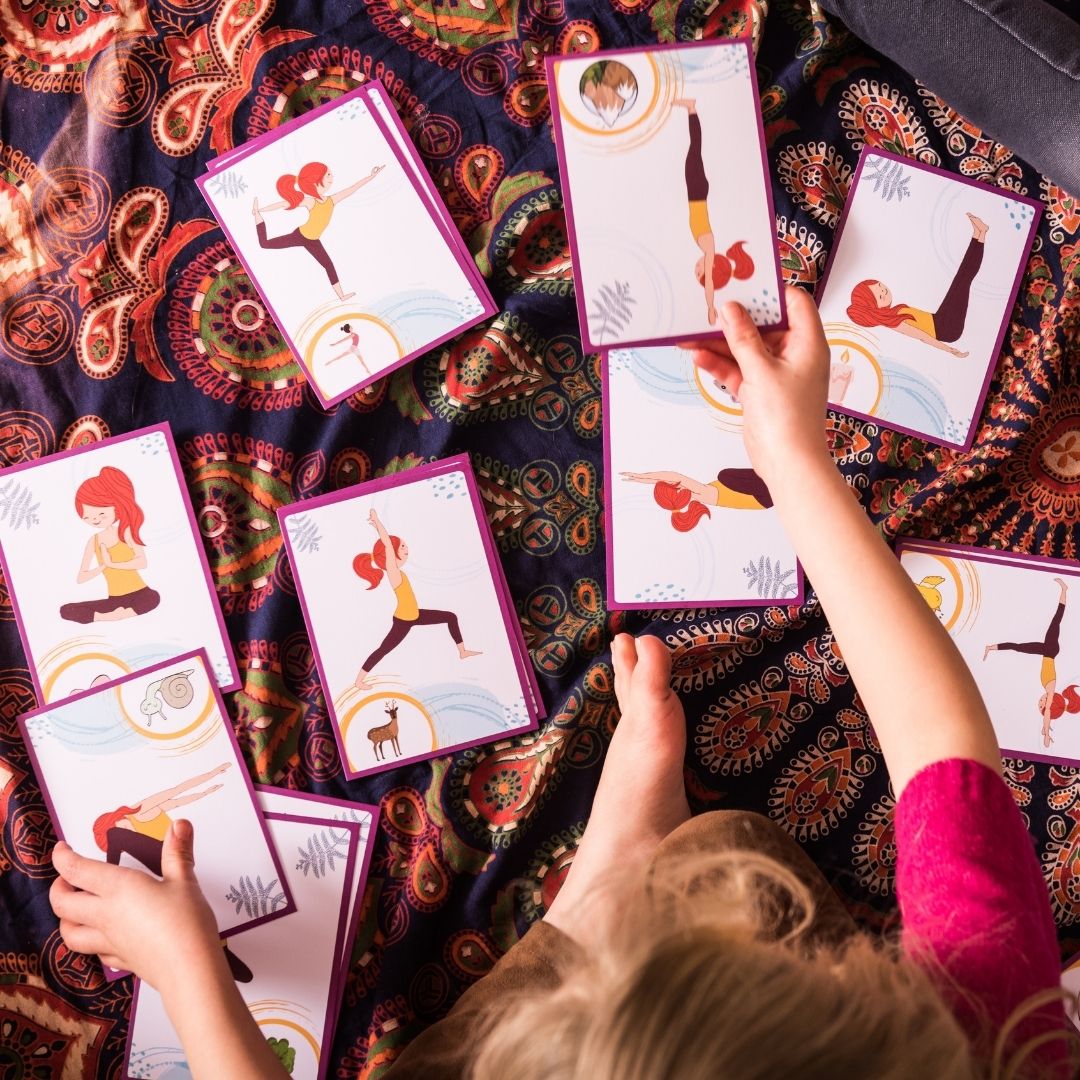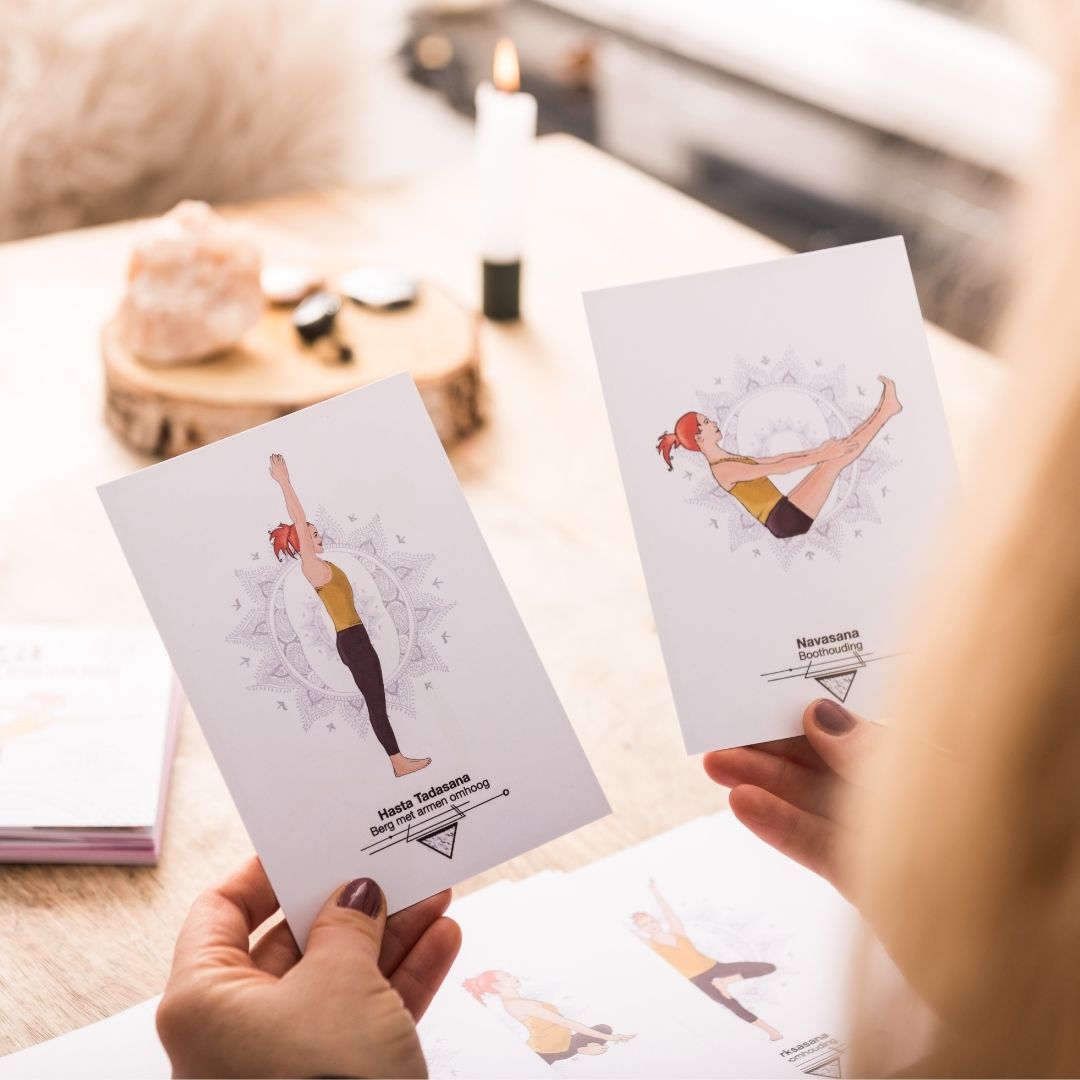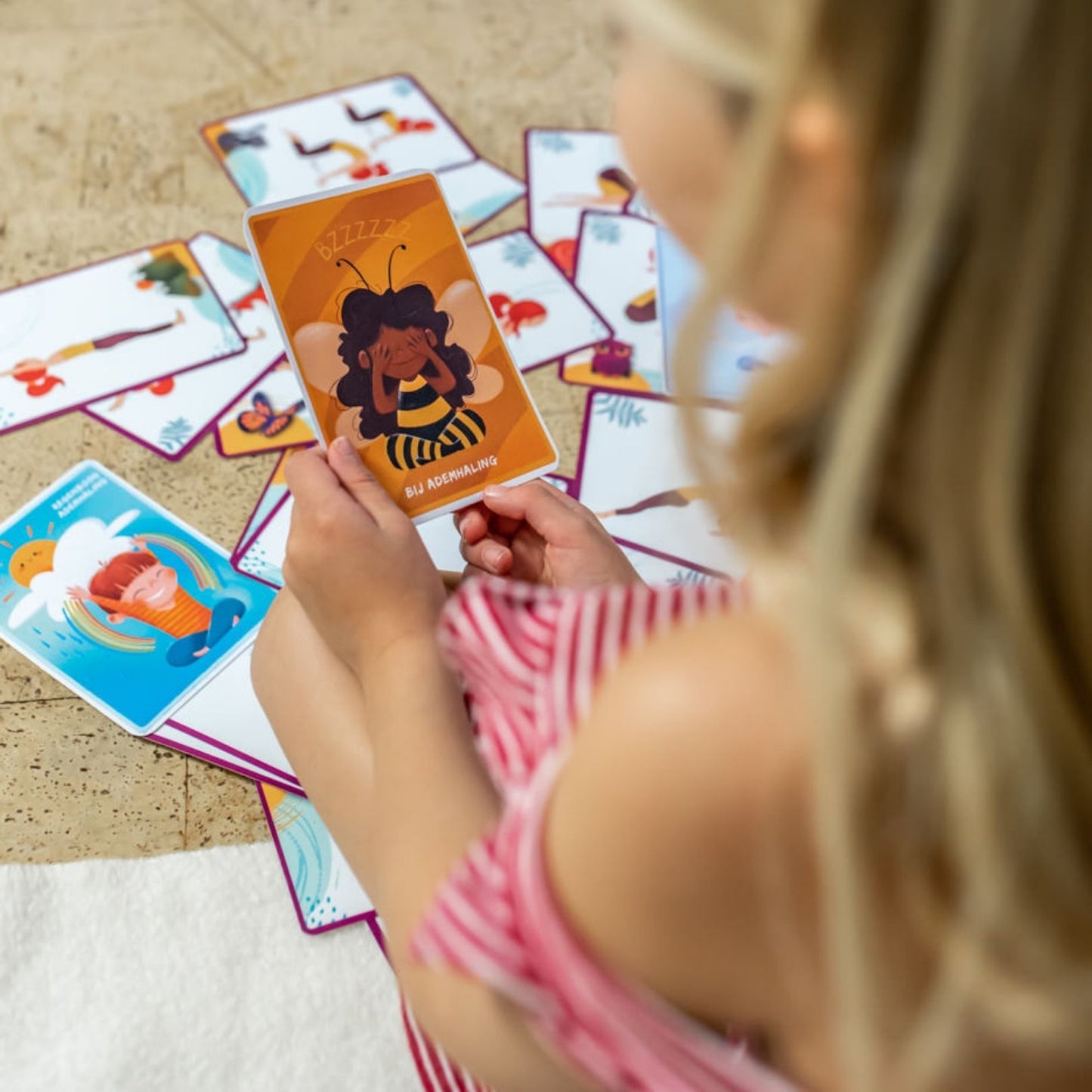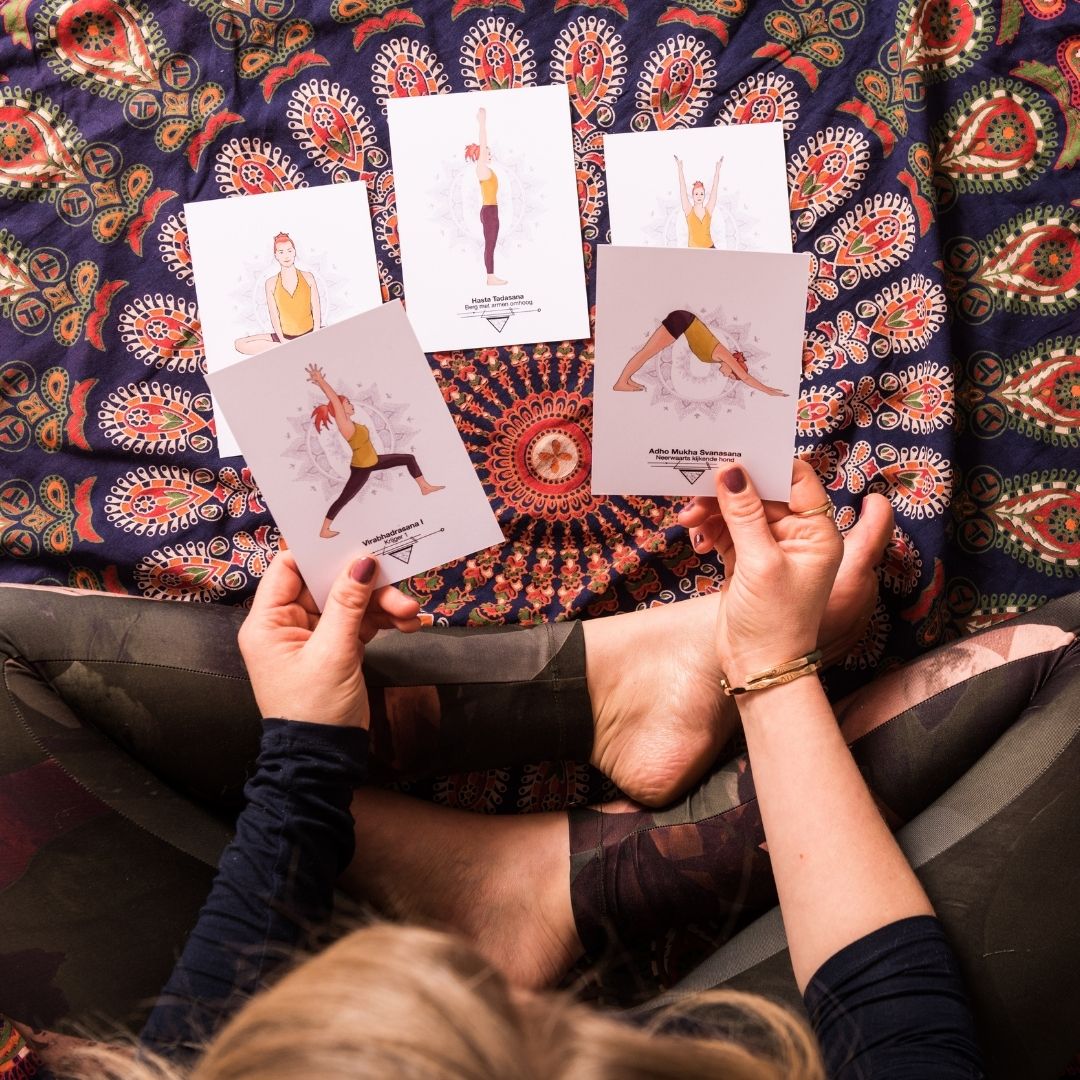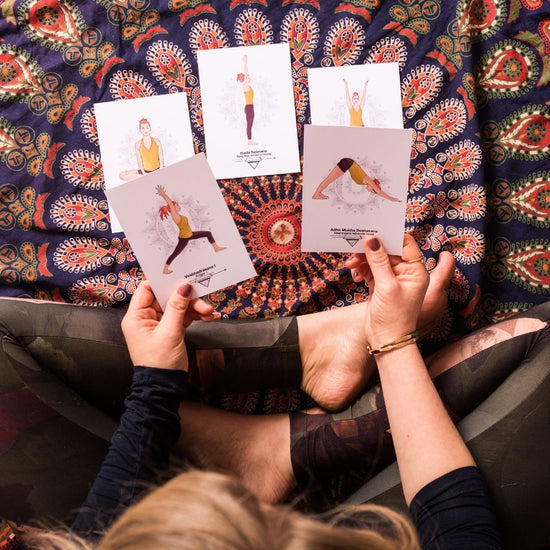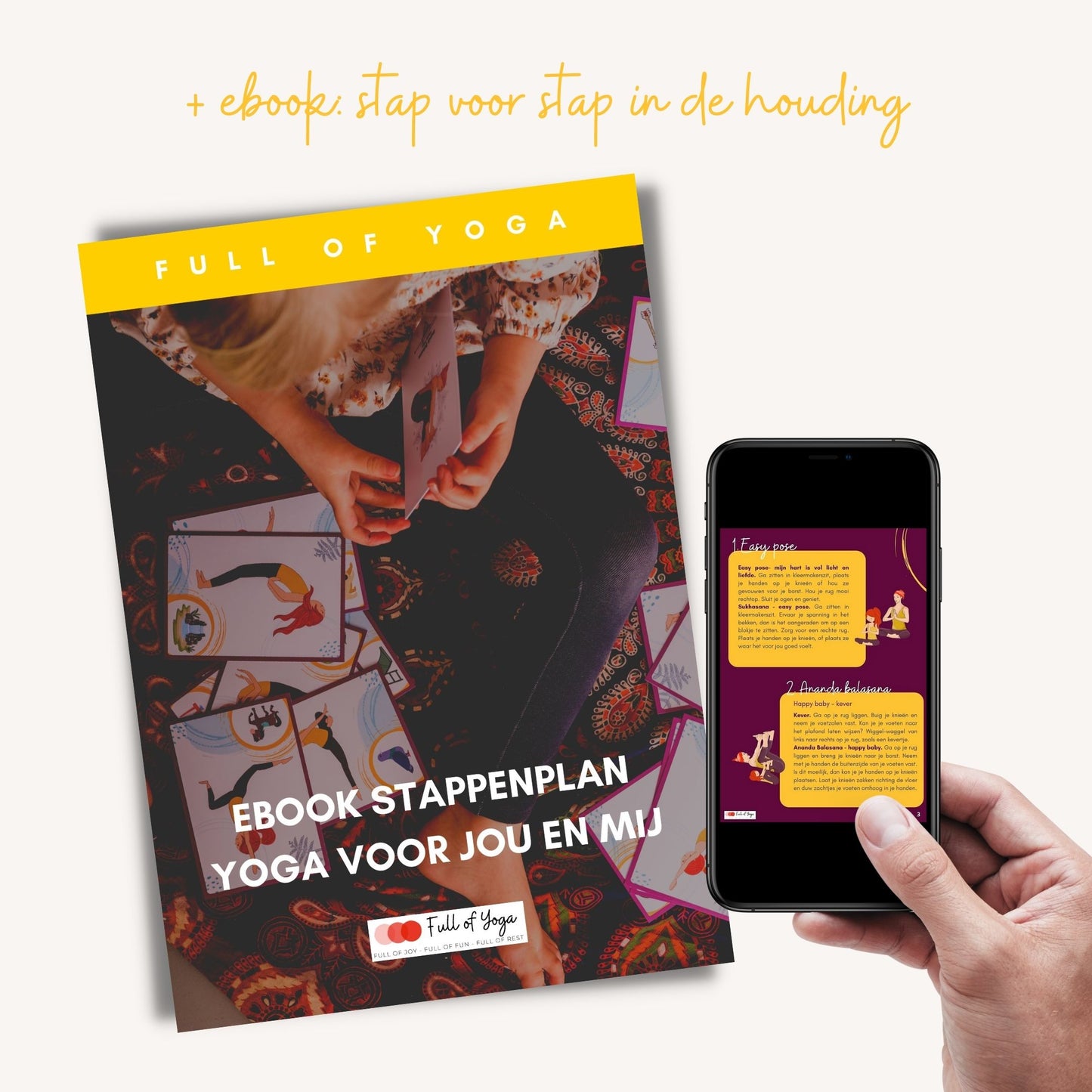 Through yoga, children learn to recognize the signals of their body, so that they become powerful and self-confident.
This way they learn tools that they can also benefit from in the future.
Package contents
30 poses for kids

30 poses for adults on the other side

12 breathing exercises

1 ebook with instructions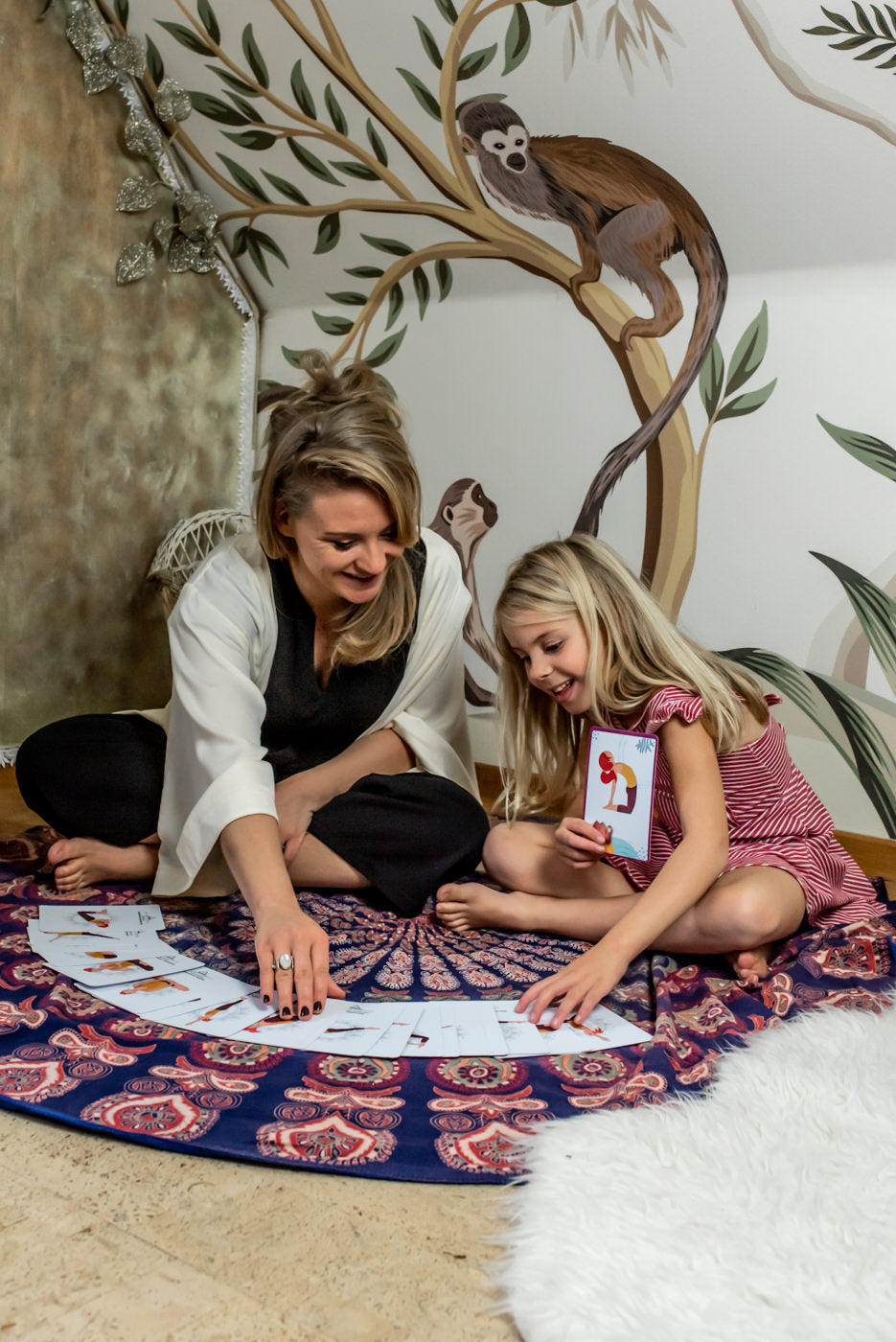 Yoga for you and me
Create a moment of connection and mindfulness with your child, in peace and confidence.
With her background as a mom, occupational therapist, yoga teacher and teacher, Liesbeth illustrated these card sets with the aim of providing children with tools to grow into confident individuals.
Production in the Flemish Ardennes

Tailored for children and adults

Developed by a yoga teacher, teacher and occupational therapist
er ontbrak een boekje met uitleg bij elke yogahouding, staat nochtans in het lijstje inhoud kaartenset...ik krijg het graan !
Dag Lieve, bij de kaartenset komt een ebook, deze kan je downloaden via QR. Er is geen fysiek boekje aangezien het een groot document is met uitleg per houding voor kind en volwassenen, en daarnaast ook enkele korte yoga lesjes. Stuur me gerust indien je nog info wenst. Liefs
Wanneer verkrijgbaar?
Ik zie hier geweldige kaarten! Helaas zie ik dat ze uitverkocht zijn. Komen ze terug? Zoja, wanneer? :-) Liefs, een toekomstige koper uit Nederland.
Hey, ik wou je even laten weten dat de set terug in voorraad is! ❤️ Liefs Liesbeth
Mijn kindjes zijn er helemaal weg van, en ik geef toe, ikzelf ook! Echt leuk dat we ze beiden kunnen gebruiken.Ook het extra boekje is heel handig met tips per houding.
Ik heb ze alvast besteld!! Bedankt Liesbeth, jouw yogalessen hebben Anne-Sophie in het verleden bij ziekenhuisopnames echt geholpen om haar tot rust te brengen, bewust en rustig ademen deden haar veel deugd❤
Super om te horen, heel veel groetjes aan Anne-Sophie ❤