Regular price
€220,00 EUR
Regular price
Sale price
€220,00 EUR
Unit price
per
Sale
Sold out
Ready to give your class a boost of peace, focus and concentration? And this on the basis of simple yoga exercises that are immediately applicable?
Get started with yoga in your class as a snack with this online video training. A training with part theory and videos with 20 postures and 12 breathing exercises adapted to the classroom context.
Contents

More than 2 hours of theory
20 postures adapted to the classroom context
12 breathing exercises
1 workbook
Bonuses:
- Lesson about stimulus processing in children.
- Digital sun salutation poster for kids.
- Breathe along PDF package with maps and poster
For whom

✔️ As a teacher (primary education or group 3 to 8) in class as a snack, in the quiet corner, for a test, during the circle moment, ...
✔️ As a care teacher individually with the student.
✔️ For therapists during individual therapy. Such as occupational therapist, speech therapist, physiotherapist, children's coach, psychologist, ...
Access training

After payment you will receive an email giving you automatic access to the training.
View full details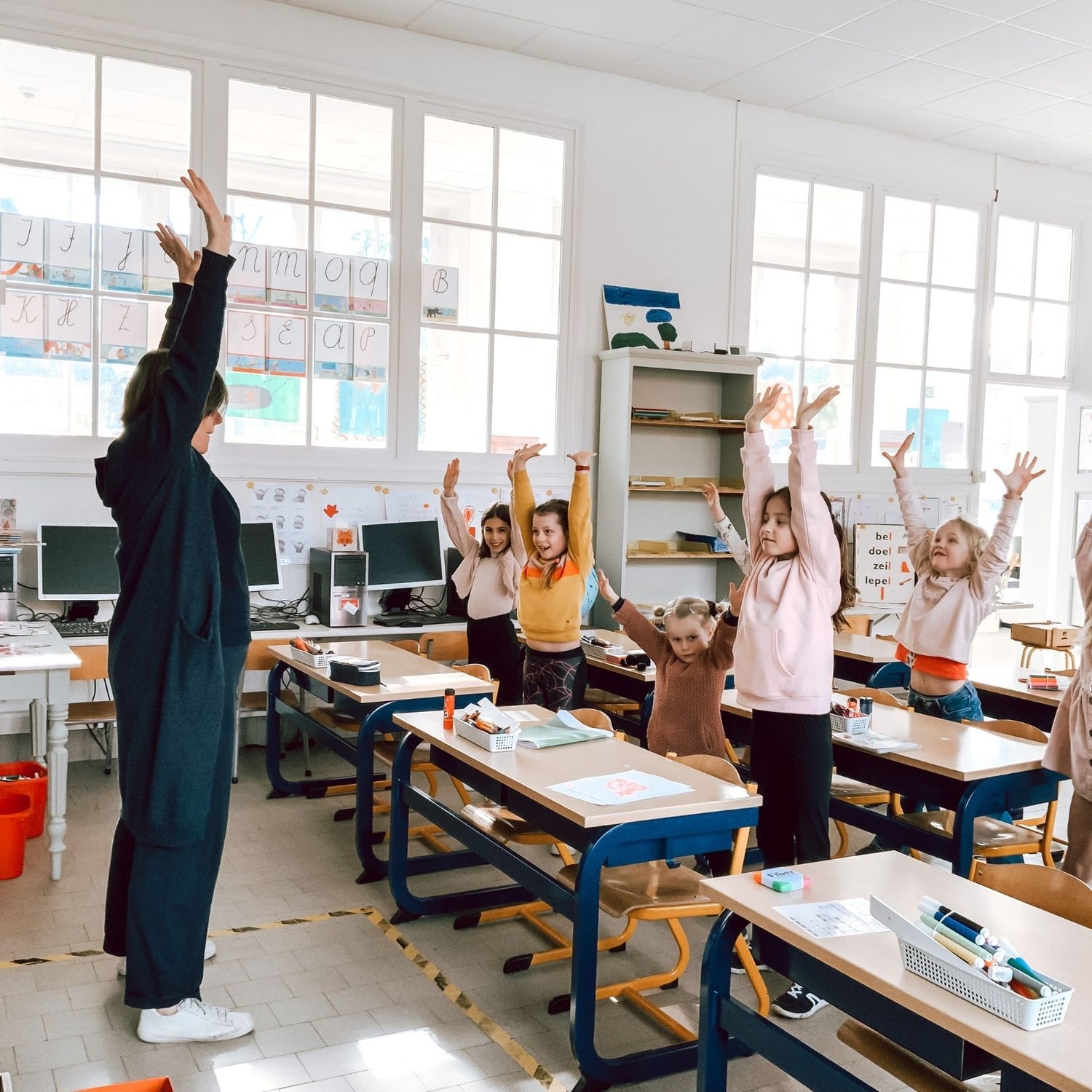 Do you recognize this?
✔️ Children's wiggling and fidgeting often takes the upper hand, sitting still is a challenge.
✔️ Or children just seem flawless and could use an energy boost .
✔️ Children sometimes find it difficult to place their emotions .
✔️ You notice that children quickly experience fear or stress in certain situations. For example, before a test or another important moment.
✔️ The general classroom atmosphere could use a boost.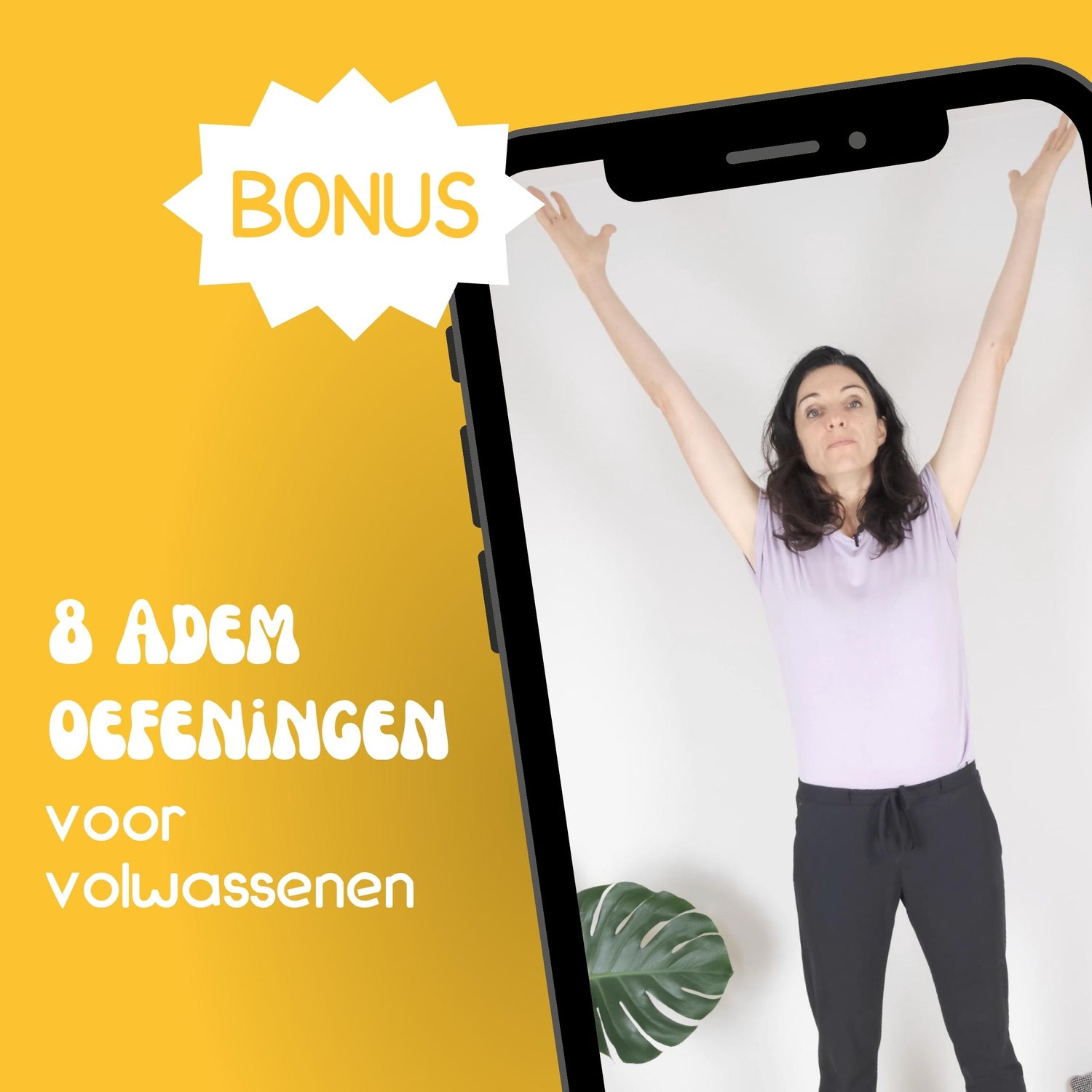 Kinderen leren door imitatie en observatie.
Ze leren van de manier waarop een volwassene omgaat met stress en emoties.
Daarom vind je in dit pakket ook 8 ademhalingsoefeningen voor volwassenen terug.
✨Zodat ook jij effectieve tools aanleert die je zelf kan oproepen wanneer jij hier nood aan hebt.
✨Zodat ook jij die rust doorheen de drukke dag, even kan opnemen.
What are you learning?
1. Welkom

1.1. Welkom in de online training, een introductie.
1.2. Inhoud van de training
1.3. Doel, Yoga in de klas: waarom het een verrijkende aanvulling is

- Certificaat
2. Downloads

Werkboek
PDF houdingen (kaarten)
PDF ademhalingsoefeningen kaarten
PDF ademhalingsoefeningen poster
Poster zonnegroet voor kinderen
What is Kids Yoga?

Let's take a look at the basics of children's yoga. What exactly does children's yoga entail? What are the benefits of yoga in the classroom and why can yoga in the classroom be an added value?
4. Yoga in de klas

4.1. Yoga in de Klas: waarom het een verrijkende reis voor onze leerlingen is
4.2. Positieve effecten van yoga op leerlingen en leerkrachten
How do you apply the snacks?

When can we apply these snacks? How can you adapt them to the age or to your class? How can you integrate the snacks in your class?
Master class stimulus processing

With Inge Adriaanssens . How can you look at the behavior of your students differently? What does your student want to tell you? How can you respond to this with the help of yoga?
12 Breathing exercises

7.1. Ademhalingsoefeningen, een introductie
7.2 De video's voor kinderen

De ballon ademhaling
Bellen blazen
De bij ademhaling
De buik ademhaling
Draak ademhaling
De hand ademhaling
De houthakker
Het kampvuur
Konijn ademhaling
De olifant ademhaling
De raamtekening
Regenboog ademhaling

7.3 De video's voor volwassenen
20 poses

De berg - Hasta Tadasana
Het blaadje - Paschimottanasana
De boom - Vrksasana
De boot - Navasana
De danser - Nataranjasana
De Duif - Eka pada rajakapotasana
De glijbaan - Purvottanasana
De hond - Adho mukho Svanasana
De Kat - Marjaryasana/bitilasana
De krijger -Virabhadrasana 1 en 2
Mijn hart is vol licht en liefde - Sukhasana
De muis - Balasana
De sprinkhaan - Salabhasana
De ster - Utthita tadasana
De stoel - Uttkatasana
De uil - Malasana
De vogel - Virabhadrasana 3
Windmolen - Parivrtta Prasarita Padottanasana
Waterval - Tadasana met backbend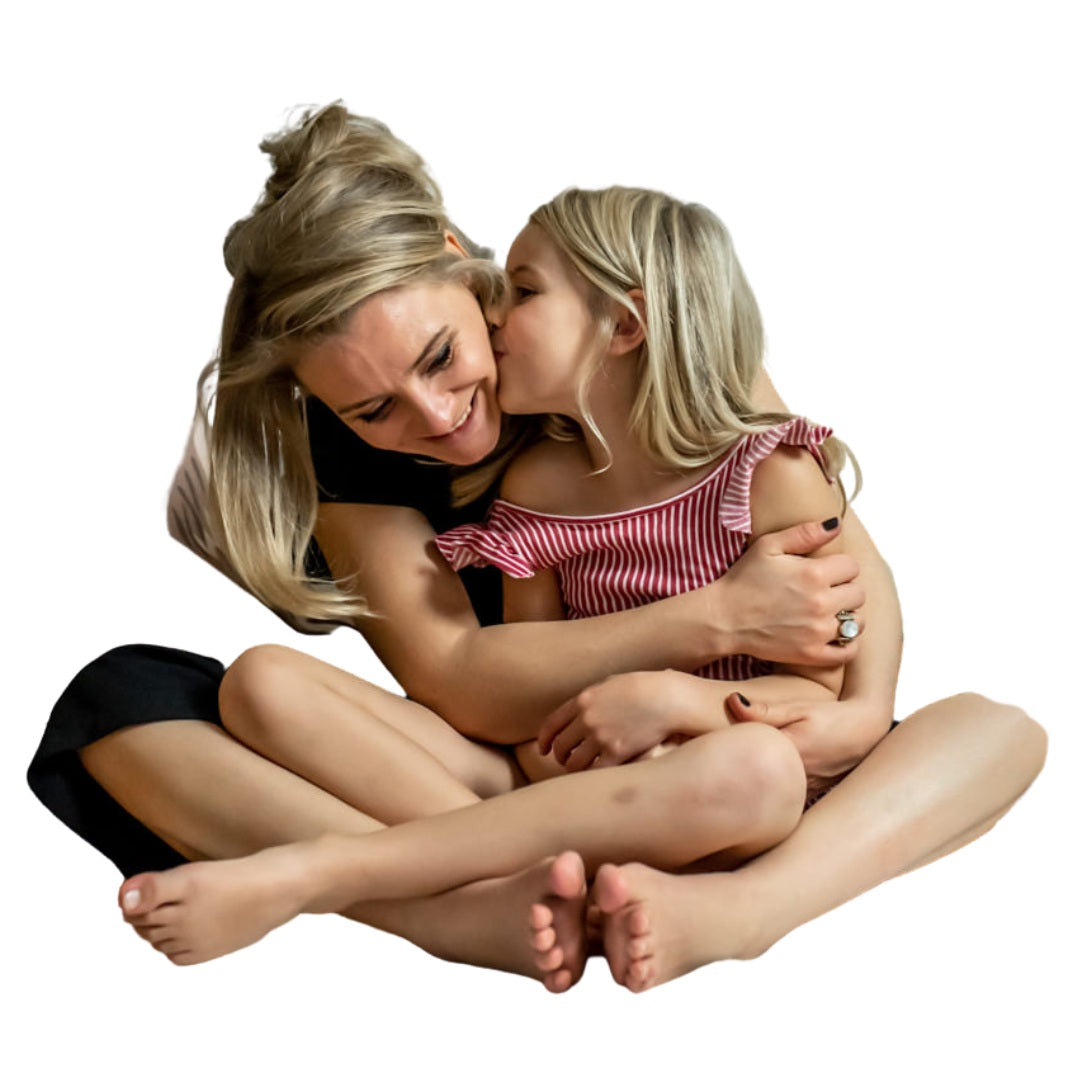 Meet Liesbeth
Hey, hey, Ik ben Liesbeth, ergotherapeut, leerkracht, yogadocent en ademcoach. Met 14 jaar ervaring in het buitengewoon onderwijs en ondersteuner, heb ik veel scholen bezocht en talloze leerlingen begeleid. De inspiratie kwam van de leerkrachten die ik ontmoette en de behoefte aan beweging en rust die ik bij leerlingen en docenten zag.
Na het volgen van opleidingen tot yogadocent en kinderyogatherapeut, zag ik de waarde van yoga in het onderwijs. Stap voor stap integreerde ik yoga in de klas en paste ik de houdingen aan aan de context en mogelijkheden. Zo ontstonden de tussendoortjes.
Ontdek nu deze waardevolle tool voor jouw klas.
FAQ
How long does the training take?

The training consists of a first part of approximately 2 hours of theory. This is followed by videos (more than 1 hour) of postures and breathing exercises. You can follow the training at your own pace. The videos can be a nice resource on the Digibord.
Why yoga in class?

1. To offer an innovative and challenging working method.

2. Which promotes the general classroom atmosphere.

3. Which is conducive to the general well-being of each individual student.

4. Provides students with skills to better understand the signals their bodies give, helping them better regulate their emotions.

5. With easy-to-use tools that give students a positive boost to focus and concentration.

6. To bring students into the NOW in a simple and 'quick' way, when their attention is distracted for a while. An important condition for learning.

7. To create a classroom atmosphere full of confidence , enthusiasm and belonging , away from the competitive.
Is the training only for teachers?

Also as a therapist, speech therapist, occupational therapist, child psychologist, physiotherapist, children's coach, ... the training can certainly mean added value.
How long do I have access to the training?

After payment you will receive an email to log in to the training. After that, the training is available for life.
Do I need prior knowledge of yoga?

Not at all. In the particle theory you get the basics so that you can easily get started with the exercises. Then you will receive a step-by-step explanation on the basis of video to perform the posture or breathing exercise.
How long does each snack last?

The exercises consist of postures and breathing exercises that take 2 to 5 minutes. Moreover, in the workbook you will find an affirmation for each exercise, and therefore a topic of conversation, when you have more time during the day. For example, think of a circle moment, as an introduction to a new theme, ...